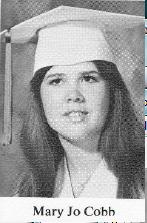 Mary Jo Cobb Stringham
4464 S. 4100 W.
Roy, UT 84067
(801) 732-2567
E-Mail: lmstring@quest.net
Comments from 2001:
We've added another son to our family bringing the total to 6 boys & 3 girls.
I'm teaching Preschool, and all the mom thnigs.
We've built a new home in West Haven, Married off our oldest son & in a few weeks another son will be married.
Had our 1st grandchild, born May of this year.
Comments from 1991:
After high school, I attended Snow College in Ephriam, and Weber State where I received my associate degree in cosmetology. In June 1973, I married Lynn Stringham (OHS '70) who I met in Dotson's biology class while learning to skin frogs. We are the busy parents of 5 boys and 3 girls (that's right--only eight) Casey, 15, Kyle, 13, Tyler, 12, Ryan, 9, Emily, 7, Bryce, 5, Holly, 4, and Shelly, 1. What a gang!
Lynn is an engineer for the Boeing Aerospace Co. which gave us the opportunity to live in the Seattle area for 7 years, which we really enjoyed. Six years ago, we transferred back to Utah and moved home to Ogden. We are busy with family and scouting (with 5 boys and a scoutmaster husband). We obviously enjoy camping, traveling, and each other.
I keep busy chauffeuring, shopping, cleaning, fulfilling church callings. I make time for my loves of quilting, sewing counted cross-stitch, doing hair, decorating my home and music (learning to play the piano), while trying to keep my home and family organized. All in all it's a fun and interesting life and I can't think of much I'd want to change.