Janet Oberhansly Cherry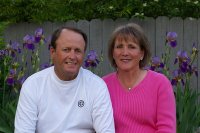 1708 N. Wellington St.
Washington,Utah 84780
435-817-3318
1429jmc@gmail.com
Comments from 2011:
currently live in the St. George area. I sell real estate for Re/max First Realty. My husband, Bryan Cherry, and I also own and operate a business called "Wasatch Front Communications" where we are a retail outlet for "Direct T.V." and "Dish Network". We sell, service, and install Satelite dishes in the Ogden area as well as the St. George area.
We have been married for 25 years now, and together we have nine children and 35 grandchildren.
We enjoy the game of golf. We are active in our community and church. We love spending time with our children and grandchildren.
Comments from 2001:
All nine of our children are finally raised. You would think we would have some peace & quiet. No Way! We now have 12 grandchildren, 6 boys & 6 girls, ranging in age from 1 yr - 8 yrs. So needless to say, we are still very busy. I work part time at R.C. Willey's, selling furniture. Our favorite passtime is golfing an spending time enjoying our family & grandchildren.
Comments from 1991:
I was married to Merrill Budge in Feb, 1970. He joined the Navy for four years. We were stationed back East in the New England states. While we were in the service, we had our first three children, Julie, Paul and Steven. From 1974 to 1978, we had three more children, Janice, David and Melissa. They were all born here in Utah. In 1983, we were divorced. I decided to go to college and get my degree. I graduated with an associate degree in sales and retail. I sold advertising for "Hill Top Times" (Hill AFB newspaper) for 2 1/2 years. Then I worked for Silo as a salesperson and later as an assistant manager for 2 1/2 years. In 1986, I married Bryan Cherry. He has three boys by his first marriage, Jason, Heston and Treaver. So we have nine kids between us. In June of 1990, Bryan was injured on the railroad and he took a medical retirement and I retired from Silo in Feb. of 1991. Bryan is attending Weber State and I am staying home and being a homemaker and loving every minute of it. My oldest daughter was married in May of 1990 to Scott Workman. No children yet, so I'm not a grandmother.