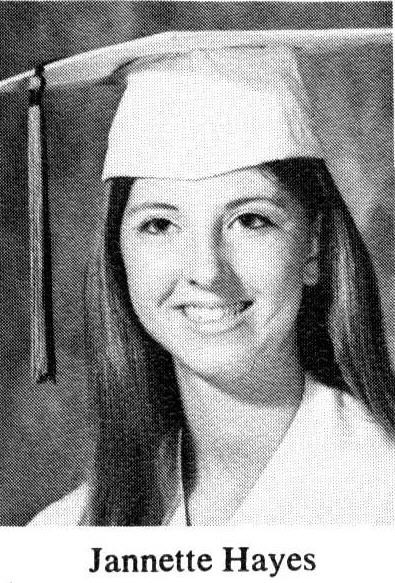 Janette Hayes Ashby
756 S. Jeremy St.
Salt Lake City, UT 84104
801-572-5911
Comments from 1991:
How can one squeeze 20 years into a few lines? It is good that we didn't know what the future would hold for each of us as we passed the portals of graduation. The pattern of my life has been one of constant change, adventure, lessons to learn and like, happy times and hard times.
My life's companion, John, is extremely goal oriented--so you can imagine my trying to keep up with him. We have been blessed with two lovely daughters, Carolyn and Laura (they really are heaven sent). Oh, and of course, our circle includes an extremely lively little dog, Chico, and Old Max, the cat. I have a passion for gardening, reading, cooking (I am considered a health nut by many). I still love the mountains and sunshine--although I enjoy them more from a distance now.
Some highlights have been our years we lived on the island of Guam and in Kent, New York. As the saying goes though, "there is no place like home." Hopefully, Sandy, U.S.A., will be our abode until final graduation from life.
I am thankful to so many of you who traveled the way in those high school years for being a light to me. Those friendships were a strength and now bring special memories. I have taken a bit longer than the usual individual to discover what my mission in life was to be. The greatest happiness and success always come from (this is a test--choose one): a. boating on a 50 ft. yacht on Lake Powell; b. cleaning the house; c. making righteous choices and building loving relationships. The correct answer is "c" and I know all of you have come to the same conclusion in life.