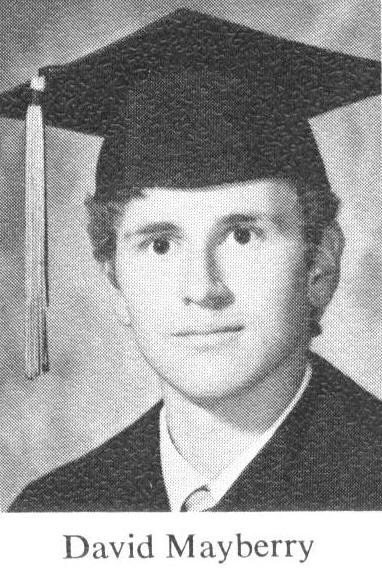 David Mayberry
(801) 375-0868
Comments from 1991:
It is fun to recall and reflect our times at Ogden High. To see those times filtered thru another 20 years of life experiences definitely changes the perspective. Often what was so important then is not now. In fact, we can see it never really was. But before I get too philosophical, let me do the travelogue.
After graduation, I went to Utah State University for a year, then on a mission to Texas, which was a great, life changing experience. Back to USU for an additional four years where I earned a degree in Mechanical Engineering (thank you Mrs. Jones). While there I played on the USU golf team, took every PE class they offered, and generally had a great time. Maybe that is why I spend five years getting a four-year degree. At school I met Patti Bills from Sandy, UT. We dated for a few years and got married my senior year, 1977. Without getting too mushy, suffice it to say she is a great wife. She means absolutely everything to me.
After USU, I went to work for General Electric as a Sales Engineer. We lived in Denver, Chicago, Phoenix, and Farmington, NM. After seven years with GE, I quit, moved back to Orem, and went to work for the infamous Bill Larkin at Laser Mail in SLC. I spend 3.5 years of arduous toil under that slave driver Larkin working for free. (Note: Anyone that knows Bill knows I'm kidding. He was a generous and patient boss with a great little company that is now a great big company.) Having caught the entrepreneurial bug from Bill, I quit to start my own business. For the last four years I have built a small property management business here in Orem. I manage 4-plexes, duplexes, and homes for out-of-state owners as well as a few units of our own. It is a good business that gives me the flexibility to play some golf. I am captain of our 8-man team at Riverside Country Club and I try to play in a few tournaments each year.
Now for the real important stuff. Patti and I have three super kids. Beth Ann is 12 and was born in Chicago. She starts Jr. High this year and loves to read. Corinne is 10 and loves sports and piano. She was born in New Mexico. Spencer is 3 1/2 and is so much fun for our whole family. He's got a great little golf swing and he is really gabby. I think Mrs. Hansen got to him before he was born and told him to give me a hard time, because the kid has a real attitude. We live in a nice little NE Orem neighborhood and I get to go to all of the BYU football and basketball games. What can I say? Life is great!
Gosh, my travelogue is too long; no more room for philosophy. I'll just finish by saying that it's been a great 20 years. We've seen some places, made some friends, grown in the Church, and laughed, sometimes a lot, almost every day. Talk about important stuff.