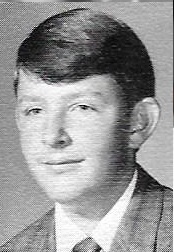 Christopher Davis
3665 W. 5850 S.
Roy, UT 84067
(801) 985-0886
Comments from 1991:
I actually graduated from Herdon High School in the Washington, D.C. while my dad was on sabbatical from Weber State College. I returned home to Utah only to get ready to leave on an L.D.S. mission, spending two years in Texas knocking on doors.
I finally graduated from Weber State College in 1978 with a degree in political science, which meant I could either go to law school or deliver newspapers. After delivering newspapers, I decided law school was easier. Not wanting to be lonely and wanting to save my future wife (Kathy Robbins) from the B.Y.U. culture, we got married in 1978. Kathy is from Kaysville and younger than the rest of us.
We traversed down to Malibu, California to Pepperdine University. After graduation, we returned to Utah. I worked briefly with the Utah Attorney General's office, then worked for 5 1/2 years for the Weber County Attorney's office. Presently, I'm the Roy City Attorney.
We have four great kids - Benjamin (11), Lindsey (8), Karissa (5), and Michael (2). I've been active in the Alumni at W.S.C., serving a term as president. We're active in community and church service and raising a family.